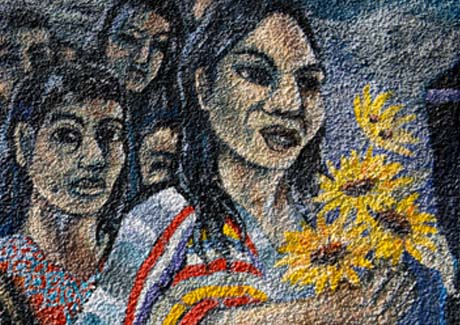 In recent years, federal immigration enforcement policies and practices, including increased reliance on state and local agencies for information about non-U.S. citizens, have swept an unprecedented number of people into the detention and deportation system. These policies rip families apart, encourage racial profiling, and undermine due process. States and localities, too, have enacted laws designed to make life so difficult for immigrants that they are forced to go elsewhere. Through policy work and litigation, NILC challenges unjust enforcement-related federal, state, and local policies and laws whose main targets are low-income immigrants and their families.
Immigration Enforcement Information
Litigation
Trump's Refugee & Muslim Ban
Litigation Update: What's Happening in Key Lawsuits Challenging the Muslim Ban?
Pars Equality Center, et al. v. Pompeo, et al. (challenging waiver provision of Muslim Ban 3.0)
Jewish Family Service of Seattle, et al. v. Trump, et al. (challenging Trump's suspension of certain refugee admissions and the follow-to-join program)
P.K., et al. v. Tillerson, et al. (challenging U.S. State Department's refusal to process Diversity Visa applications)
International Refugee Assistance Project, et al. v. Donald Trump, et al. (challenging exec. order as violation of Establishment & Equal Protection clauses)
Hameed Khalid Darweesh, et al. v. Donald Trump, et al. (requesting stay of removal of refugees and immigrants affected by exec. order of Jan. 27, 2017)
Understanding the Ninth Circuit's Decision (Issued Feb. 9) on the Refugee and Muslim Ban
What the Federal Courts Said About President Trump's Refugee and Muslim Ban 2.0
Unjust Visa Denial by U.S. State Department
Villada Garibay, et al. v. U.S. State Dept., et al. (granted a provisional unlawful presence waiver, plaintiff was unjustly denied permanent resident visa by consular officials)
Challenge to Community Trust Laws (not litigated by NILC)
United States v. California: Amicus Briefs Submitted (U.S. challenge to California's "sanctuary"/community trust laws)
Challenges to Immigration Enforcement by Local Authorities (not litigated by NILC)
United States v. Alabama
United States v. Arizona
Villas at Parkside Partners v. City of Farmers Branch (challenge to ordinance restricting immigrants' access to housing based on immigration status)
Challenge to Louisiana Anti-Immigrant Law