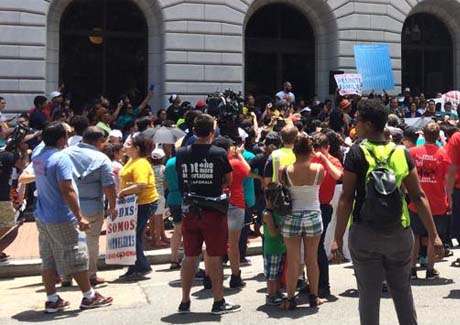 On June 15, 2012, the U.S. Department of Homeland Security (DHS) announced that it would not deport certain undocumented youth who came to the United States as children. Under a directive from the DHS secretary, these youth may be granted a type of temporary permission to stay in the U.S. called "deferred action." The Obama administration called this program Deferred Action for Childhood Arrivals, or DACA. This page provides guidance on how to apply for DACA, renew DACA, and other important information on DACA.
---
IMPORTANT NOTICE — PLEASE READ
♦♦ Information for class members: dacaclassaction.org or dacaclassaction.com
JANUARY 19, 2021 — As a result of an order by a U.S. district court in the Eastern District of New York, on December 7, 2020, U.S. Citizenship and Immigration Services (USCIS) began accepting initial DACA applications, DACA renewal requests, and applications for advance parole from DACA recipients.
Since then, USCIS has mailed notices to individuals whose requests for DACA were approved for a one-year period, informing them that their current period of deferred action and their employment authorization document (EAD) have been automatically extended from one year to two. USCIS distributed guidance, including for employers, making clear that the extended EADs should be treated as having a two-year expiration date for all purposes for which EADs are used, including eligibility for state services and for employment eligibility verification. USCIS also mailed notices to individuals who submitted first-time applications for DACA or applications for advance parole, and whose applications were rejected as result of the unlawful July 2020 memo issued by Chad Wolf curtailing DACA.
On January 4, 2021, USCIS provided to the court a status report on DACA with information about the applications for DACA and for advance parole that were received, adjudicated, approved, denied, and rejected between November 14 and December 31, 2020, as well as the applications previously affected by the July 2020 Wolf memo.  A more detailed summary of the data produced in that report is available at dacaclassaction.org.
If you are DACA-eligible, whether or not you already have DACA, more information about this case that is relevant to you is available at dacaclassaction.org.
MORE INFORMATION

GET OUR DACA BROCHURE