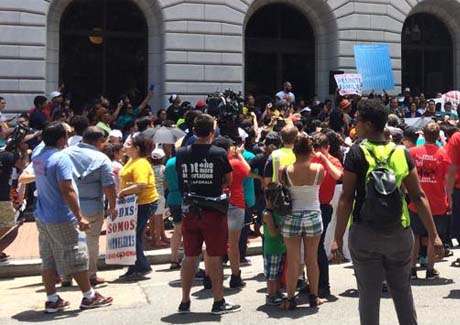 On June 15, 2012, the U.S. Department of Homeland Security (DHS) announced that it would not deport certain undocumented youth who came to the United States as children. Under a directive from the DHS secretary, these youth may be granted a type of temporary permission to stay in the U.S. called "deferred action." The Obama administration called this program Deferred Action for Childhood Arrivals, or DACA. This page provides guidance on how to apply for DACA, renew DACA, and other important information on DACA.
---
IMPORTANT NOTICE — PLEASE READ (September 5, 2017)
On Sept. 5, 2017, the Trump administration announced that it is terminating the DACA program. Our statement about the announcement is available here.
According to the announcement, the Department of Homeland Security will stop accepting new DACA applications (i.e., from people who don't already have DACA). People who already have DACA and whose work permits expire between now and March 5, 2018, will be able to apply for a two-year renewal if they apply by October 5, 2017.
Generally, if you want to apply to renew your DACA by Oct. 5, we encourage you to speak first with an immigration attorney or a Board of Immigration Appeals–accredited representative. If you decide to proceed with an application, we urge that you be represented by an attorney or accredited representative (a Form G-28 should be filed with your application).
MORE INFORMATION

GET OUR DACA BROCHURE