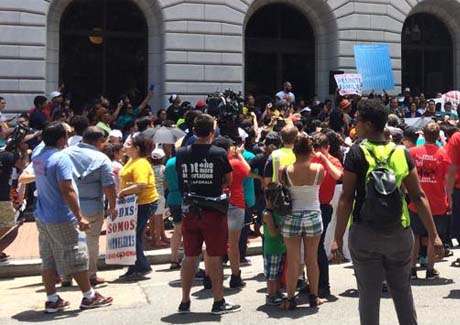 On June 15, 2012, the U.S. Department of Homeland Security (DHS) announced that it would not deport certain undocumented youth who came to the United States as children. Under a directive from the DHS secretary, these youth may be granted a type of temporary permission to stay in the U.S. called "deferred action." The Obama administration called this program Deferred Action for Childhood Arrivals, or DACA. This page provides guidance on how to apply for DACA, renew DACA, and other important information on DACA.
---
IMPORTANT NOTICE — PLEASE READ (June 18, 2020)
JUNE 18, 2020 — The U.S. Supreme Court issued a decision finding that the Trump administration's termination of DACA was (1) judicially reviewable and (2) done in an arbitrary and capricious way that violated federal law. NILC's news release about this major victory is available at www.nilc.org/2020/06/18/monumental-supreme-court-victory-for-daca-recipients/. Here's what we know now in light of this decision:
U.S. Citizenship and Immigration Services (USCIS) will continue to accept DACA renewal applications from anyone who previously has had DACA.
USCIS should now begin to accept first-time DACA applications (that is, applications from people who haven't already had DACA) and advance parole applications from DACA recipients. HOWEVER, we do not know at this time whether the Trump administration will take action to try to limit these options.
Whether you want to apply to renew your DACA or apply for DACA for the first time, we encourage you to speak first with an immigration attorney or an Office of Legal Access Programs (OLAP)–accredited representative. If you decide to proceed with a renewal or first-time application, we urge that you be represented by an attorney or accredited representative (a Form G-28 should be filed with your application).
In the days ahead, please check back here for more information, as we will be updating this page with additional analysis and guidance as we learn more.
MORE INFORMATION

GET OUR DACA BROCHURE