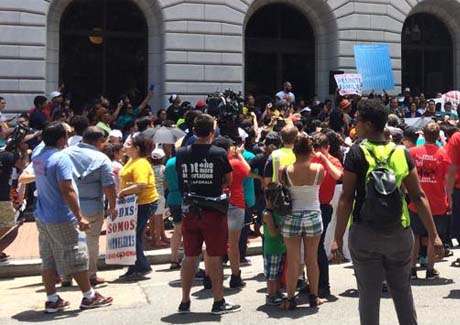 On June 15, 2012, the U.S. Department of Homeland Security (DHS) announced that it would not deport certain undocumented youth who came to the United States as children. Under a directive from the DHS secretary, these youth may be granted a type of temporary permission to stay in the U.S. called "deferred action." The Obama administration called this program Deferred Action for Childhood Arrivals, or DACA. This page provides guidance on how to apply for DACA, renew DACA, and other important information on DACA.
---
IMPORTANT NOTICE — PLEASE READ
July 20, 2021 — On July 16, 2021, a U.S. district court in Texas issued a decision and injunction in Texas v. United States, holding that Deferred Action for Childhood Arrivals (DACA) is unlawful but allowing DACA to continue for current recipients and allowing, for now, for continued renewals.
The court:
held that the DACA program is unlawful,

set aside the DACA program and the 2012 U.S. Department of Homeland Security (DHS) memorandum that originally established DACA, and

remanded DACA back to DHS to take steps to comply with the court's order.
The court "stayed" its order with regard to people who already have DACA. This means that they may apply to renew their DACA and that U.S. Citizenship and Immigration Services (USCIS) may continue processing DACA renewal requests. The court also emphasized that its decision should not be interpreted as terminating any existing grants of DACA. People who have DACA will not lose it as a result of the court's order.
With respect to people who are eligible for DACA but have not been granted it, the court's order:
allows USCIS to continue to accept first-time DACA requests, but

prohibits the federal government from approving any first-time DACA requests after July 16, 2021 (the date of

the court's

decision).
The federal government has announced that it will appeal this decision to the Fifth Circuit Court of Appeals. NILC is continuing to assess the decision and to plan for next steps in our continuing fight to protect DACA. Please check this webpage for updated information.
If you are eligible for DACA, whether or not you already have DACA, more information that is relevant to you is available at dacaclassaction.org.
MORE INFORMATION

GET OUR DACA BROCHURE