Bipartisan Language Access Developments in Congress Pave the Way for Change
By Ben D'Avanzo
THE TORCH: CONTENTS
November 6, 2023

In August, NILC documented the dire need to address health disparities through our report, Expanding Health Care Access for Individuals with Limited English Proficiency (LEP). In the past month, two bipartisan bills have been introduced in Congress aligned with the report's proposed policy solutions. These bills, along with other developments in Congress, demonstrate the potential for real progress on this important issue.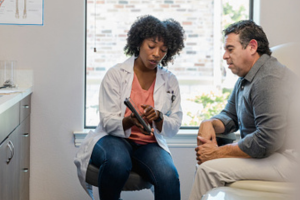 Most recently, Rep. Michelle Steel (R-CA), along with three House Republicans and nine Democrats, introduced the Supporting Patient Education and Knowledge (SPEAK) Act of 2023. This legislation, supported by an array of health consumer and industry organizations, including the American Medical Association and Healthcare Leadership Council, would tackle the issue of disparities in telehealth access for people with LEP. For example, a recent secret shopper study found that English speakers in California were significantly more likely to be able to obtain a telehealth appointment than Spanish speakers. The SPEAK Act would bring together stakeholders in a federal task force to identify the barriers and solutions to such disparities.
In September, Reps. Young Kim (R-CA) and Grace Meng (D-NY) introduced the Health Communication Access and Resources for Everyone (Health CARE) Act. Similarly supported by health care industry and consumer groups, this bill would establish a universal symbol to convey the availability of language services in print, web, and medical office settings. It builds on funding Congress allocated to the Department of Health and Human Services for Fiscal Year 2023 for the concept of a language access symbol, akin to Australia's National Interpreter Symbol.
These new bills build on additional work in Congress to address language access and health. In 2021, Congress unanimously passed Rep. Young Kim and Rep. Hakeem Jeffries' (D-NY) legislation to require the Department of Veterans Affairs to translate its fact sheets into twelve languages. More recently, House health committees unveiled bipartisan legislation to improve health care price transparency, including provisions to require health care entities to make their prices available to people with LEP.
Combined with the Biden Administration's renewed commitments to language access, along with the heightened public awareness of these disparities thanks to systemic failures during the COVID-19 pandemic, the federal government has a rare opportunity to advance concrete and widely supported policies in this area. Congress should act now to improve access to health care for people with LEP. Waiting will only further disparities, hurting immigrant families and communities of color through needless systemic failures.