Don't Be Fooled: Funding for ICE Homeland Security Investigations (HSI) Is Funding for Trump's Anti-Immigrant Agenda
THE TORCH: CONTENTSBy Jessie Hahn, NILC Labor & Employment Policy Attorney
FEBRUARY 8, 2019
While the public may think that Homeland Security Investigations (HSI) focuses primarily on national security and transnational crime, HSI is also responsible for certain immigration enforcement functions inside the U.S. (known as "interior enforcement"), including enforcement of immigration laws as they apply to worksites ("worksite enforcement"). In October 2017, the former acting director of U.S. Immigration and Customs Enforcement (ICE), Thomas Homan, vowed to increase worksite enforcement activities "4 to 5 times," and in January 2018, U.S. Dept. of Homeland Security Secretary Kirstjen Nielsen doubled down by promising to ramp up worksite raids.
As a result, HSI has resumed engaging in highly militarized and coercive large-scale worksite immigration raids. In fact, over the spring and summer of 2018, it conducted several high-profile operations in Florida, Tennessee, Iowa, two locations in Ohio, Nebraska, Minnesota, Texas, and Arkansas.
Worksite raids are a violent and widely condemned enforcement tactic that tear parents away from unsuspecting children, cause profound psychological harm, destabilize local communities, and generally undermine all workers' job-related rights. While HSI has attempted to legitimize its use of worksite raids by claiming they are criminal investigations, the vast majority of the workers detained are administratively arrested on civil immigration violations, and in most cases the employers are not criminally charged. By using worksite raids to target large numbers of workers for arrest and deportation while failing to prosecute the employers who hired them and profited from their labor, HSI's new worksite enforcement practices mirror the larger strategy of the Trump administration — abusing executive powers to demonize and scapegoat immigrants while quietly pursuing policies that line the pockets of business interests.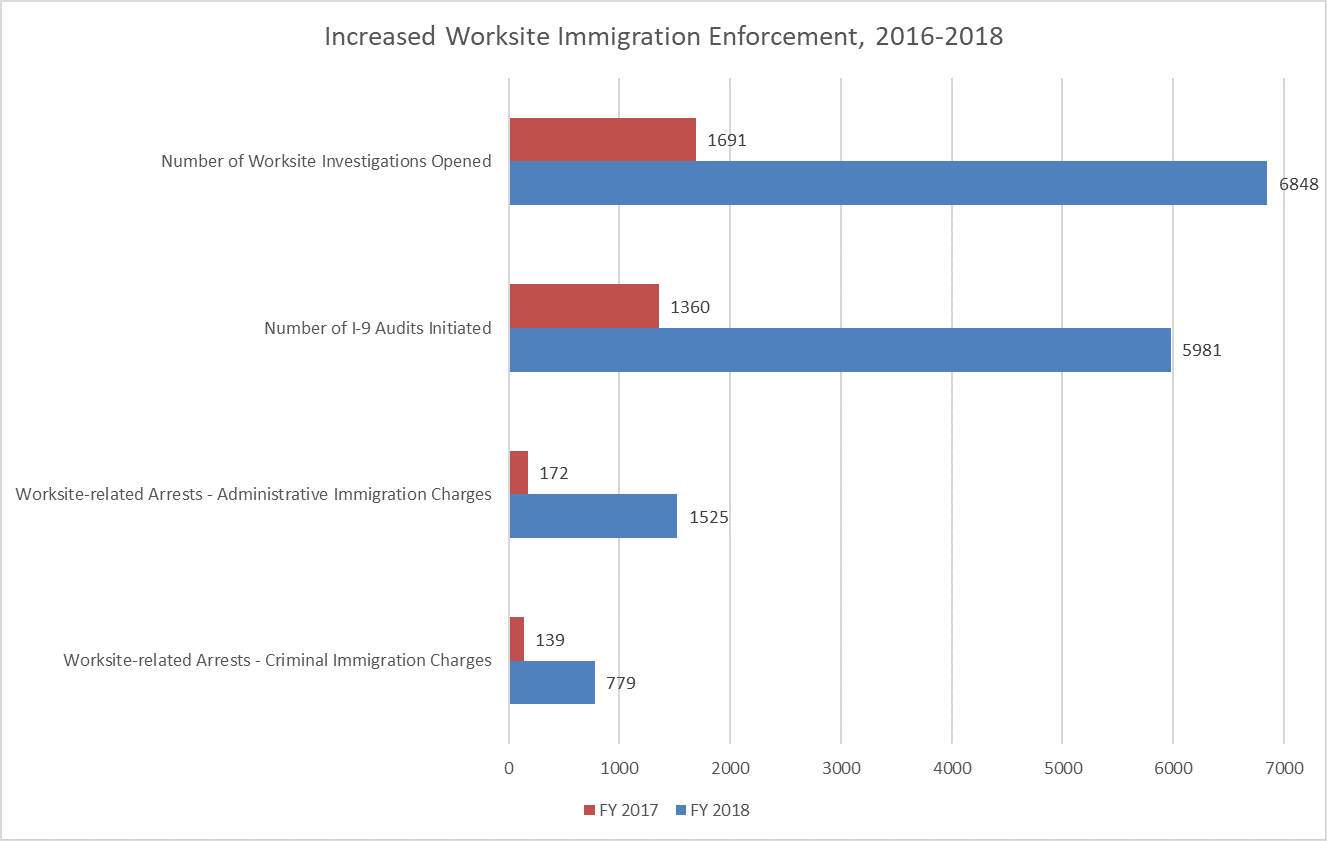 During the spring and summer of 2018, disturbing patterns emerged in HSI's conduct of its worksite raids. Multiple news reports described that while helicopters circled overhead and local law enforcement blocked nearby roads, HSI agents stormed worksites as heavily armed guards secured all exits. In the utter chaos that ensued, unsuspecting workers were subjected to excessive force, intimidated by police dogs, thrown to the ground, assaulted, had guns pointed at their heads, and were subjected to racist and degrading comments from HSI agents. In Ohio, plainclothes HSI agents initially lured a group of workers into a breakroom using boxes of donuts before surrounding them and arresting them. In multiple raids, HSI agents racially profiled workers, separating workers by skin tone and rounding up brown-skinned workers without asking for identification or immigration status information — which resulted in false arrests of U.S. citizens who were then held unlawfully, in some cases for hours.
Predictably, such enforcement brings deep trauma to those directly impacted by it and also terrifies the larger immigrant community. After a devastating raid in Tennessee, the ripple effects spread across the region, with neighbors scrambling to care for children who had been left stranded without parents for hours and families sleeping in churches for days out of fear of ICE coming to their homes. The day after the raid, 550 children failed to show up to local schools. This kind of immigration enforcement has a profoundly destabilizing effect on the well-being of the children whose parents are unexpectedly torn from them, causing severe anxiety and depression, poor sleeping and eating habits, inability to focus in school, and constant fear of separation from other family members.
While HSI has engaged in criminal investigations of employers since its formation, the use of large-scale worksite raids to target workers for arrest and deportation was discontinued after 2008 due to the widely documented harms and the havoc these operations cause. In public statements, HSI has attempted to justify its latest ramping up of worksite enforcement as necessary to "build another layer of border security" and "reduce the continuum of crime that illegal labor facilitates." In reality, HSI is making the decision to engage in the most aggressive, violent form of enforcement it can take at worksites because the real purpose of the raids is to target workers for deportation while creating a media spectacle designed to intimidate immigrant communities into "self-deporting."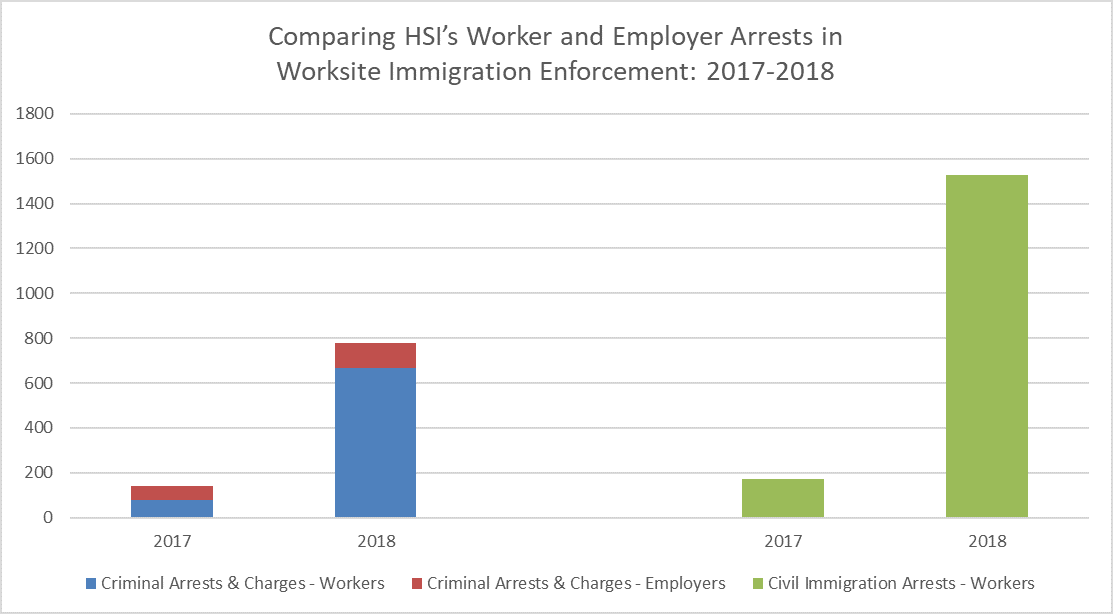 If HSI were serious about curbing unlawful hiring and employment, it would meaningfully hold employers accountable instead of focusing its enforcement firepower on workers. Yet in the majority of recent raids, employers have not been charged criminally — in fact, 2018 saw the lowest number of federal indictments and convictions of managers for unlawful hiring offenses in the last ten years. In addition, of the 779 criminal worksite arrests that HSI did make in 2018, 85 percent were workers and 15 percent were employers. As the graph above shows, while there has been an increase in the number of employers charged criminally in the worksite enforcement context, far greater resources have been expended in criminally charging workers — and most of those charges were detected after taking the workers into custody and fingerprinting them (see examples from the raids in Tennessee; Sandusky, Ohio; and Canton, Ohio).
HSI also alleges that its investigations help combat the exploitation of workers, but that couldn't be further from the truth. HSI's worksite enforcement activities force immigrant workers into the margins and damage communities, making workers more fearful of deportation and more vulnerable to gross exploitation by employers. When HSI's own investigation of the Tennessee employer turned up wage and hour and safety violations on the job, it did not refer those violations to the proper authorities (who opened investigations only after the employees filed complaints).
ICE has been sued repeatedly for constitutional violations committed during home raids and by this point should be well aware of the constitutional rights and protections that everyone in the U.S. has. There is no legitimate reason for Congress to increase funding for HSI's abusive worksite raids. Currently, HSI has approximately 6,000 enforcement officers and 6,000 special agents. But it wants to add an additional 10,000 officers and agents, which would significantly increase its capacity to harm families and communities across the country.
Rather than increasing HSI's funding, Congress should cut it and also prohibit HSI from arresting workers while conducting worksite enforcement.
---
For more on this topic, see www.nilc.org/hsi-backgrounder-webpage/.