FOR IMMEDIATE RELEASE
July 14, 2017
CONTACT
Email: [email protected]
Juan Gastelum, 213-375-3149
Hayley Burgess, 202-384-1279
New Evidence Proves Deported DACA Recipient Juan Manuel Montes Was Kicked Out of the U.S. by Immigration Officials Against His Will
Montes's attorneys ask the court to order his return home
LOS ANGELES — Attorneys representing Juan Manuel Montes, the first known Dreamer to be unlawfully removed by the Trump administration despite being protected under Deferred Action for Childhood Arrivals, or DACA, today introduced new evidence that proves he was unlawfully expelled from the United States. Attorneys are asking the court to order Montes's return home immediately.
"Juan Manuel was ripped from his family and community in the dead of night without a chance to even say goodbye, collect his belongings, or find a safe place to stay," said Nora A. Preciado, an attorney with the National Immigration Law Center. "He and his mother have suffered enormous emotional trauma, as has the rest of his family. The court can and should bring him back home."
Montes, 23, was physically removed to Mexico in February, despite having permission to live and work in the United States. He is represented by the National Immigration Law Center, Covington & Burling LLP, the Law Offices of Stacy Tolchin, and the Law Offices of Belinda Escobosa Helzer.
The new evidence includes several dozen pages of declarations which, taken together, paint a complete picture of what happened to Montes the night he was physically expelled and the following day when he was stranded in Mexicali. These accounts range from expert testimony, friends who spoke with Montes before and after he was removed, and time-stamped Facebook Messenger records.
They also describe the fallout for Montes and his family. Montes's mother, who has chosen not to publicly reveal her name, said: "Juan Manuel has not been the same since he was deported. He is not doing well. We talk almost daily and he sounds very depressed. He often cries when we talk. He tells me he misses our family, our home, his things, his friends, and his school. He does not know what to do in Mexico. He wants to come home because he feels lost and alone there."
Immigration officials detained Montes near the U.S.-Mexico border in Calexico, Calif., on Feb. 18, after he had been visiting a friend at her house nearby. At the time, he did not have his wallet, which contained his state identification card and federal work permit.
The officials took Montes to a nearby facility and held him for several hours. Then, without explaining why or giving him an opportunity to consult an attorney or go before a judge, they forced him across the border to Mexicali, Mexico, in the darkness of the night.
In April, Montes sued the federal government, who had refused to turn over any information that could shed light on his unlawful removal. In response, the Department of Homeland Security told the media that Montes's DACA had expired, but that was false. They later changed their story, falsely claiming that he left the country voluntarily without permission to re-enter.
U.S. Customs and Border Protection (CBP) has denied any record of any interaction with Montes the night of Feb. 18.
"The government initially denied that Juan Manuel had DACA, but that was false.  The government then proclaimed that Juan Manuel left the country of his own volition, but that too defies the facts.  As demonstrated by our filing today, Juan Manuel was unlawfully expelled from the United States, and the government must bring him back," said Mónica Ramírez Almadani, an attorney with Covington & Burling LLP in Los Angeles.
On the night Montes was physically removed to a city he remembered only vaguely from his childhood, he contacted friends. One friend, who was also in Mexicali, saw him briefly that night. Another, who crossed the border to see him the next morning, helped him find a place to rest after he spent the night wandering the streets alone. That friend also encouraged Montes get in touch with his mother, who sent him clothes and some personal belongings in a suitcase.
After picking up the suitcase near the port of entry, Montes was robbed at knifepoint by two men, who beat him. Scared, he jumped the border fence back into the U.S. He was apprehended by Border Patrol and deported once again. Until now, U.S. immigration officials have only acknowledged this interaction with Montes.
Montes is currently staying with family in Mexico.
Today's filing is available at https://www.nilc.org/issues/litigation/montes-v-uscbp/
###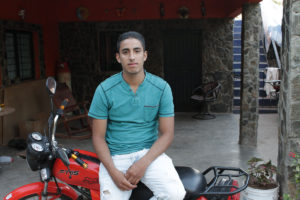 Juan Manuel