Tips on How to be a Better Ally for the Immigrants' Rights Cause
THE TORCH: CONTENTSBy Diana Pliego, NILC policy associate
December 8, 2017
On Wednesday, thousands of immigrants and allies hit the streets to demand the passage of the Dream Act before the end of the year, and it was amazing. Over 200 people put their bodies on the line and were arrested demanding the #DreamActNow.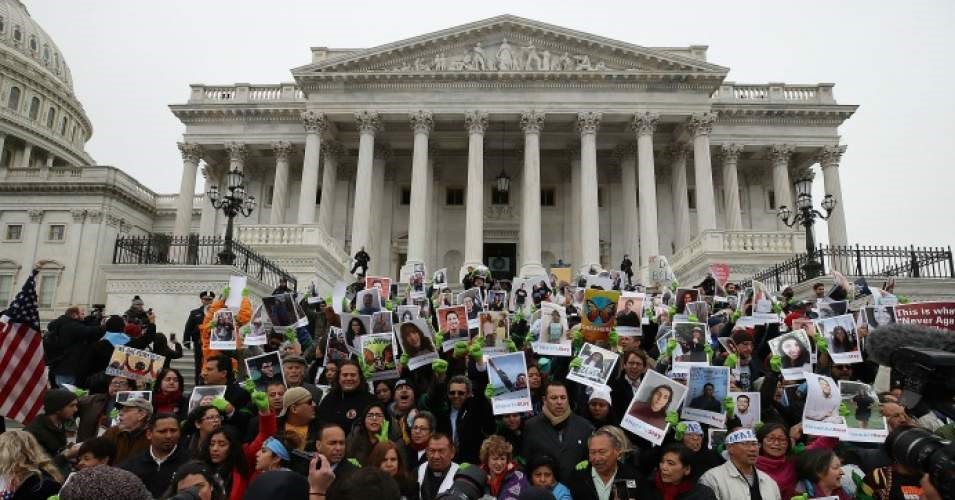 Now more than ever, immigrant youth need our allies to stand strong and firm with us in this fight for the Dream Act. As a DACAmented immigrant, I'd like to share a few tips with you on how to be an even better ally for the cause:
Listen to the lived experience of immigrant youth.
Social media, the news, politicians, and our family and friends all help shape our opinions on policy issues. Everyone seems to be an expert, but it's important to remember that the policy being debated impacts real people, in real ways. Take the time to listen to stories of immigrants in their own words. Let their personal experiences shape your point of view.
Center your advocacy around the needs of impacted people
In the same way that we ask people for their dietary restrictions before offering them a meal, we must ask immigrant youth what their community needs before advocating for what we think they need. Trust their lived experiences to inform their needs. Let their needs direct your advocacy.
Advocate WITH immigrant youth and not FOR them.
Immigrant youth do not need others to fight their fight for them. They need others to join their fight. Taking initiative for a cause you believe in is a great and powerful thing. But it's important to make sure that impacted people are the ones leading the fight forward. Who better to lead the fight for what their community needs than immigrants themselves? Take their lead and use your voice to uplift theirs.
Walk the walk. Take Action.
We've all heard that "actions speak louder than words." In times like these, that could not be more true. Right now, we need more than supportive words from our friends: we need action. Call your members of Congress. Organize with immigrant youth. Share and retweet posts by immigrant youth and immigrants' rights organizations. Talk to your friends and get them engaged. Use your voice to demand the Dream Act before the end of the year.
I hope these tips help you continue the fight for the Dream Act and many other fights to come. Know that friends and allies are loved and appreciated beyond words. Know that we are grateful for your solidarity and for the time and energy you take to fight for the Dream Act with us.
Let's keep fighting for a win! And check out these organizations and resources to get plugged in: