Top 5 Things to Know about DACA Now That the Supreme Court Has Ruled
THE TORCH: CONTENTSBy Luis Leyva-Castillo
JUNE 22, 2020
FIRST, the U.S. Supreme Court issued a decision on June 18, 2020, holding that the Trump administration's 2017 attempt to terminate Deferred Action for Childhood Arrivals (DACA) was improper.
The Court found that the Trump administration's 2017 termination of DACA is reviewable and that the administration's attempt to rescind the program was done improperly and in violation of the Administrative Procedure Act. For now, DACA remains available. For more information about the Court's decision, see Alert: Supreme Court Overturns Trump Administration's Termination of DACA.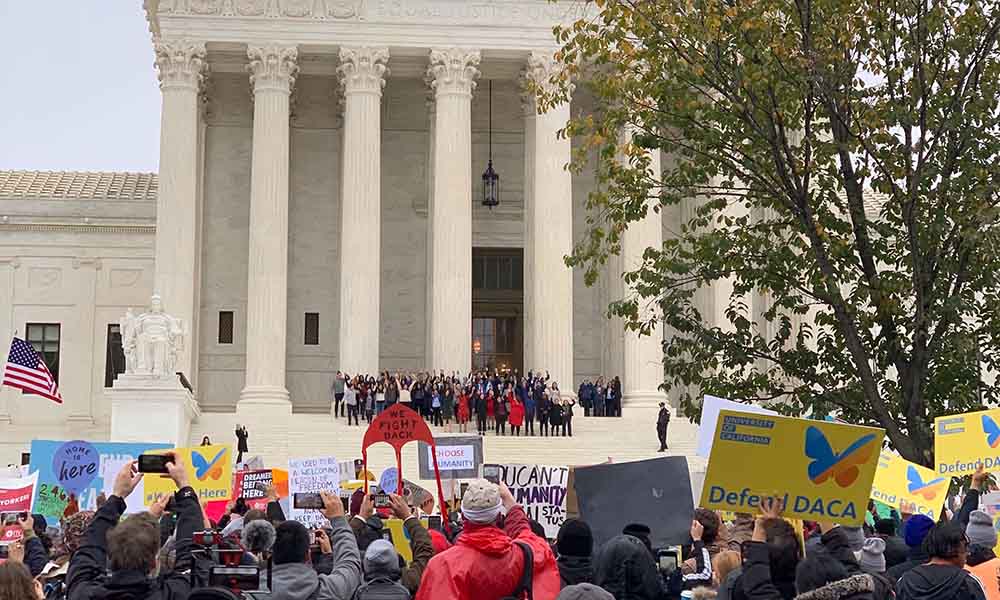 SECOND, U.S. Citizenship and Immigration Services (USCIS) must continue to accept and process DACA renewal applications.
USCIS will continue to accept DACA renewal applications from anyone who previously has had DACA. Visit www.RenewMyDACA.com and the Informed Immigrant website to learn more about how to apply for your renewal and for guidance on how to fund it. There you'll also find lists of trusted legal service organizations in your area that can help.
THIRD, USCIS should begin accepting initial (first-time) DACA applications as well as applications for advance parole.
The Supreme Court's June 18 decision vacates the Trump administration's termination of DACA and leaves in place the 2012 Department of Homeland Security (DHS) policy memo that first made DACA available. As a result, the Court's decision requires DHS to again begin accepting first-time DACA applications (applications from people who haven't applied before) as well as applications for advance parole from people who have DACA and want to travel outside the U.S.
However, we don't know whether the Trump administration will attempt to act to limit these options. If you meet the guidelines for DACA eligibility but have never had DACA, we recommend you consult with an immigration attorney or an accredited Office of Legal Access Programs (OLAP)–accredited representative as soon as possible before you decide whether to apply. The immigration attorney or accredited representative will be able to give you an individualized assessment of the benefits and risks of applying for DACA and help you gather the necessary materials for the application.
FOURTH, the Trump administration might try again to do away with DACA.
Even though the Court held that the Trump administration's first attempt to rescind DACA was done improperly, the administration has the power to attempt again to make it unavailable.
FIFTH, this is an important victory, but our fight continues!
Last week, the Supreme Court protected DACA, a form of immigration relief that immigrant youth fought decades for. It's important to celebrate this victory with our loved ones, but we must continue the fight! We encourage you to visit United We Dream's website and to join a local or state group working in your community (such as Make the Road New York and RAICES, in Texas) to learn how to get involved and fight for the rights of and protection from deportation for all immigrants, not just those with DACA. You can also help by contributing to United We Dream's DACA Renewal Fund.
---
Luis Leyva-Castillo is a rising 2L at the University of New Mexico School of Law, a DACA recipient, and a NILC intern.