DACA Renewal Guidance in Light of USCIS Office Closures and the Forthcoming U.S. Supreme Court Decision
THE TORCH: CONTENTSBy Ignacia Rodriguez Kmec
APRIL 3, 2020 [*]
In response to the COVID-19 public health crisis, U.S. Citizenship and Immigration Services (USCIS) has clarified its process for handling Deferred Action for Childhood Arrivals (DACA) renewal requests. According to USCIS's website, its offices will remain closed at least until June 4.
The Home Is Here campaign's Informing DACA Recipients and Practitioners Working Group, composed of advocates and immigration legal service providers, has updated guidance for DACA renewal requestors in light of USCIS's clarified process, which will remain in place while USCIS offices remain closed.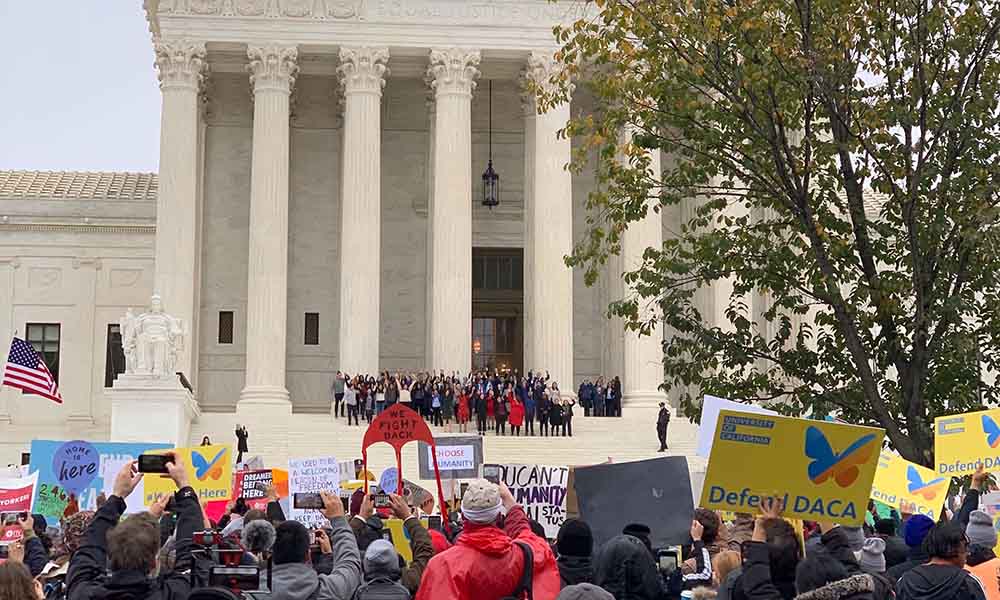 Here's what you should know:
1. "Wet signatures" (your non-photocopied signature, which you wrote with a pen) are temporarily not required on renewal applications. A person requesting DACA renewal may work with their attorney electronically (for example, using email and video or telephone conferencing) to complete their application, which can then be sent to USCIS by mail, since neither the applicant's nor the attorney's signature has to be "wet"; rather, it can be a copy of a signature on a form that was scanned, then emailed or faxed.
2. Request for Evidence (RFE) and Notice of Intent to Deny (NOID) deadlines have been extended.
3. USCIS may now use previously done biometrics to process work permit (employment authorization) renewal requests.
We can't know for sure how USCIS's office closures will affect the processing of DACA renewal requests, but we expect this closure may affect processing times. If you decide to apply now, we encourage you to send your application via certified mail to have proof of postmark date and confirmation of when your application arrived to a USCIS lockbox. For more information, we encourage you to read this guidance from Home Is Here.
Nobody knows what will happen with DACA in the next few weeks and months. We are still expecting a Supreme Court decision on the DACA cases by the end of the June 2020, but we don't know when or how the Court will rule. The COVID-19 pandemic creates an additional layer of fear and uncertainty. Tens of thousands DACA recipients are on the frontlines responding to COVID-19, according to a new Center for Migration Studies report, and they're unsure if they'll be able to keep their jobs in a range of fields, including health care, transportation, warehousing, retail, pharmacies, and waste management, if the Court's ruling leads to the end of DACA.
Advocates and some governors, such as Colorado governor Jared Polis, have asked Congress and the Trump administration to automatically extend work permits to alleviate the stress many are experiencing right now.
In the meantime, for DACA recipients, it feels like it did in June through August 2012, the three months between the announcement and implementation of DACA. During that period, we had some questions answered by USCIS but didn't know what the program would be like moving forward, and we relied on practitioners with years of experience in other areas of immigration, such as temporary protected status (TPS), for guidance. We learned by doing. We learned by monitoring how USCIS was handling DACA requests and the experiences of our clients, so we'll do the same now, given these new changes, and share any insights we learn along the way.
---
Ignacia Rodriguez Kmec is NILC's immigration policy advocate.
---
* This article was updated on May 29, 2020, in the following way: In the first paragraph, the date until which USCIS offices will remain closed was changed from "until at least May 3" to "at least until June 4," based on information on the USCIS webpage to which the phrase hyperlinks.