Toolkit | Access to Driver's Licenses
---
STATE LAWS AND POLICIES
TOOLKIT CONTENTS
---
2020 State Legislative Sessions Report
The COVID-19 pandemic's disproportionate impact on immigrants and on Black, Indigenous, and low-income communities of color has forced the United States to confront longstanding disparities in access to care and economic support, as well as the harmful effects of policing and carceral systems. Rather than addressing these issues, the federal administration's policies have thwarted efforts to protect public health, leaving states and localities to fend for themselves.
State and local governments increasingly recognize that they cannot protect public health and well-being without ensuring that all residents have access to care and support. In 2020, states continued to adopt policies improving access to health care, driver's licenses, higher education, and professional licenses for immigrants; protecting the rights of workers and tenants; promoting access to the courts; and limiting local entanglement in federal immigration enforcement efforts. States and localities also are seeking to fill gaps left by federal COVID-19 relief legislation — by offering access to care, rental assistance, tax credits, or economic support. In response to years of organizing and global protests, local governments are exploring how to shift resources from life-threatening and discriminatory carceral and policing strategies to investments in health care, education, and economic opportunities that allow communities to thrive.
This report highlights the immigrant-inclusive state laws and policies adopted from December 2019 through August 2020, including state and local efforts to provide relief to immigrant residents harmed by the COVID crisis and measures that limit their involvement in federal immigration enforcement and detention.
---
MAP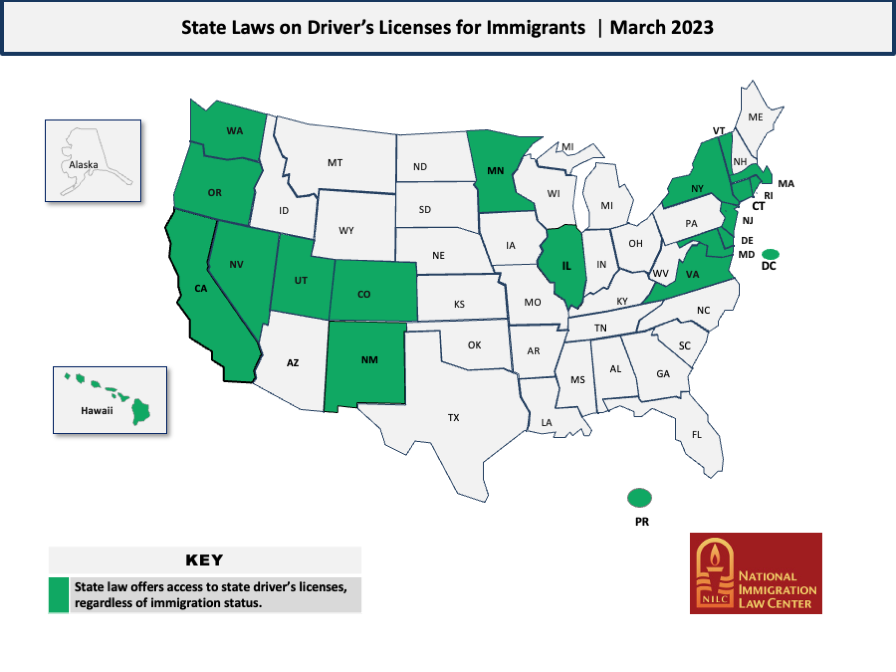 ---
TABLE
Includes information for states that issue driver's licenses or cards regardless of immigration status. Also includes descriptions of the licenses and cards, and requirements, and links to the relevant state laws.
---
TABLE
States have specific authorization under the REAL ID Act to issue non–REAL ID (or "standard") licenses that comply with the act. Currently, sixteen states plus the District of Columbia and Puerto Rico issue these licenses to otherwise-eligible undocumented residents. And many of these states make these non–REAL ID licenses available to U.S. citizens and lawfully present residents as well.
Consistent with the REAL ID Act, states can also ensure that burdensome documentary requirements, such as proof of ineligibility for a Social Security number (SSN), do not pose a barrier to obtaining a license.
This table shows whether a state that issues licenses regardless of immigration status offers its standard (non–REAL ID) license to U.S. citizen and lawfully present drivers as well. In the states that issue driver's licenses to undocumented immigrants, it indicates whether proof of ineligibility for an SSN or an Individual Taxpayer Identification Number (ITIN) is required.