Trump-McConnell Bill Is an Anti-Immigrant Wish List
It would gut asylum laws and make it harder for people with DACA and TPS to keep protections
THE TORCH: CONTENTSBy Avideh Moussavian, Patrick O'Shea, and Holly Straut-Eppsteiner
JANUARY 23, 2019
For over a month, President Trump and Senate Majority Leader McConnell have remained at the helm of what is by far the longest government shutdown in U.S. history. Both Trump and McConnell are responsible for holding the paychecks of approximately 800,000 workers hostage to Trump's demands to build a racist wall, hurting the livelihoods of federal workers and cutting off critical services for families and poorer communities across the country.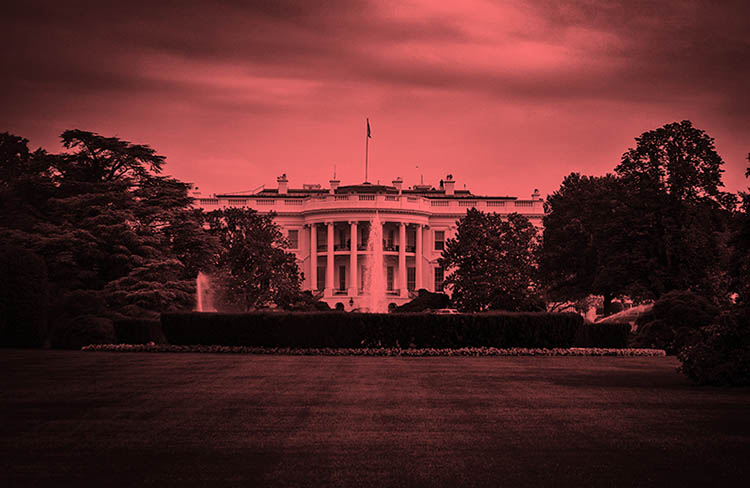 Tomorrow, the Senate is set to vote on the "compromise" White House-McConnell bill that is nothing more than a ransom note to American taxpayers and Democrats in Congress. As federal employees face missing their second paycheck, the White House and McConnell have shown once again their callous disregard for American workers and their ruthless desire to radically reshape our immigration system by gutting protections for asylum-seekers, vulnerable immigrant youth, and people with DACA (Deferred Action for Childhood Arrivals) or TPS (temporary protected status).
Some of the many disturbing poison pills in the bill are that it:
Adds $5.7 billion for a border wall and a slush fund
Adds 750 Border Patrol and 2,000 U.S. Immigration and Customs Enforcement Agents to police and jail immigrants
Bans asylum for Central American minors who are seeking safety in the U.S., by preventing them from applying for asylum at the border and forcing them to wait for a process that will take nearly a year to get underway and will be restricted so that only 15,000 children per year can be granted asylum — and without the chance to see an immigration judge or have their case reviewed
Guts trafficking protections for unaccompanied children
Offers no permanent solution for people with DACA or TPS
Makes it harder for people with DACA or TPS to maintain protection from deportation
Explicitly excludes African, Muslim, and South Asian populations with protections under TPS and DED (deferred enforced departure). The bill extends only a one-time, 3-year protection to TPS-holders from Honduras, Nicaragua, El Salvador, and Haiti — leaving out DED-holders from Liberia and TPS-holders from Guinea, Nepal, Sierra Leone, Sudan, South Sudan, Somalia, Syria, and Yemen.
Imposes harsh penalties on people with DACA by forcing them to pay back tax credits they were permitted by law to receive and excludes DACA recipients who are not wealthy
The DACA provisions in Trump's proposal reflect his administration's hostility to the program, which he chose to kill in September 2017. The Trump-McConnell bill's offer for a one-time, three-year extension of temporary protection from deportation and work authorization is limited only to current DACA-holders — leaving out those who are otherwise eligible or could become eligible. This extension is meaningless: people with DACA are already able to renew their DACA under a nationwide injunction blocking Trump's attempt to end the program. And, since the Supreme Court has decided not to take up any of the current DACA court cases during this term, people who currently have DACA will continue to be able to renew their two-year protections from deportation at least through the end of this year.
However, the Trump-McConnell bill would more than double the DACA renewal fee, from $500 to $1,000, which would almost certainly reduce renewal retention for a program that an overwhelming majority of Americans support. DACA recipients need permanent solutions to their perpetual state of limbo — but this bill provides none.
Because of Trump administration policies, people with TPS are also in a state of limbo, because the administration has attempted to phase out TPS protections by allowing them to expire. Legal challenges have left the future of TPS up to the courts. Again, here the Trump-McConnell bill makes a weak offer to provide a one-time, three-year renewal only for TPS-holders from four countries (Honduras, Nicaragua, El Salvador, and Haiti). It completely fails to assist TPS-holders from Guinea, Sierra Leone, Nepal, Sudan, South Sudan, Yemen, Somalia, and Syria. The bill also heads off future opportunities for individuals to receive relief through TPS by requiring that applicants already have legal status in the United States to qualify for protections.
Another insidious aspect of the Trump-McConnell bill's provisions is that it aims to ensure that the U.S. opens its doors only to the wealthy. The bill would require that individuals with DACA and TPS maintain an income at 125 percent of the federal poverty level or be enrolled in school. For a family of four, that is an income threshold of $32,188. Even with two full-time workers in a household, families earning low wages (the federal minimum wage remains at $7.25) would not qualify. Such requirements reflect the administration's continued efforts to disenfranchise low-income families.
The Trump-McConnell bill provides no solutions for immigrants and asylum-seekers and, in fact, creates greater risks for these communities. It also fails to provide relief for the suffering of federal workers and families across the country who rely on federal programs. Rental assistance from the Department of Housing and Urban Development has been frozen and low-income renters and seniors across the country may soon face eviction. States will begin exhausting their TANF (Temporary Assistance for Needy Families) funding by the beginning of February. People who rely on SNAP (food stamps) to feed their families could have to wait 45 or 50 days to receive benefits. The shutdown has stretched on so long that even federal courts may start sending home staff as early as January 25 as their funding begins to be affected.
Americans have made it clear that they do not want to build a border wall and do not feel that it should be a priority for Congress. So why are Trump and McConnell intentionally depriving people of their livelihoods and their government? If this bill is any indication, the blatantly disingenuous DACA- and TPS-related overtures (and other similar provisions included to entice Democrats) are simply a Trojan horse meant to give cover to their uncompromising anti-immigrant agenda.
If the president and Senate majority leader were serious about ending this shutdown, they would give up these unreasonable and politicking demands for a cynical and dangerous boondoggle and reopen our government. Full stop.
---
Avideh Moussavian is NILC's legislative director for advocacy; Patrick O'Shea is NILC's research and narrative strategist; and Holly Straut-Eppsteiner is NILC's Mellon/ACLS Public Fellow and research program manager.
---
6:33 PM Pacific time: This article was updated in the following way: The bulleted item that begins "Imposes harsh penalties on people with DACA" was added.