INFORMATION VACUUMING
The Trump Administration Is Collecting Massive Amounts of Data for Its Immigrant Surveillance and Deportation Machine
THE TORCH: CONTENTSBy Joan Friedland
AUGUST 22, 2018
The Trump administration is vacuuming up vast amounts of unfiltered information about immigrants and United States citizens in the service of its immigrant surveillance and deportation machine. Here are a few of the ways this information collection occurs.
Visa Lifecycle Vetting
Tracking and monitoring immigrants is official government policy.
In July 2017, the U.S. Department of Homeland Security (DHS) met with vendors to plan "a continuous vetting strategy, framework and process." At first, DHS called this strategy the Extreme Vetting Initiative. Later, DHS changed the name to the more innocuous-sounding Visa Lifecycle Vetting. But its aim is the same: to serve as a "backdoor" barricade to many immigrants, including those targeted in Trump's Muslim bans, to reduce access to legal pathways to immigration status, and to funnel immigrants into the deportation pipeline.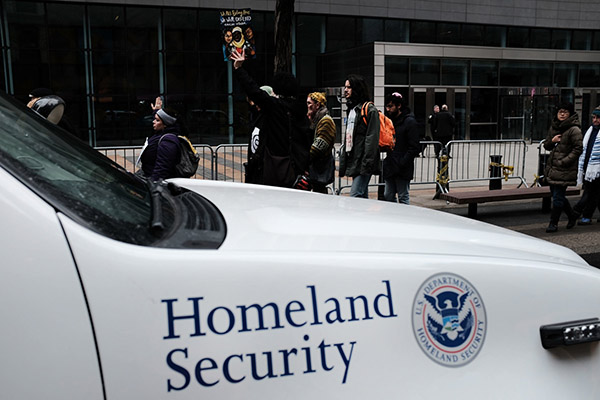 According to DHS's Statement of Objectives for the initiative, "The gaps in the current vetting model along with existing limitations in the vetting process create a compelling case for [U.S. Immigration and Customs Enforcement] to take action to develop and implement a continuous vetting strategy, framework and process" (see "Attachment 1: Extreme Vetting Initiative: Statement of Objectives (SOO)," file name "Attachment_1-_SOO_-_12_June_2017_final").
The Trump administration is seeking to expand screening and monitoring at all stages — before and after a non–U.S. citizen obtains lawful immigration status and even, according to other DHS DHS notices, after lawful permanent residents become naturalized citizens. This is happening at the same time that DHS has announced it will aggressively target naturalized citizens to strip them of their U.S. citizenship.
This strategy is part of the larger Trump agenda to criminalize, surveil, and police immigrants and communities of color generally.
Tracking Social Media and Internet Use
One important component of the plan is that DHS plans to monitor immigrants' and naturalized citizens' social media and other Internet activity. The U.S. State Department also recently proposed requiring applicants for immigrant and nonimmigrant visas to disclose their social media handles.
Recently, DHS announced the creation of the External Biometrics Record System of Records (EBR). DHS claims that EBR allows DHS only to "receive, maintain, and disseminate biometric and associated biographic information from non-DHS entities, both foreign and domestic." But EBR also will include identifiers for derogatory information, miscellaneous officer comment information, and encounter data. And it will include "records related to the analysis of relationship patterns among individuals and organizations." These items are undefined and unlimited in scope.
Relying on Commercial Database Aggregators
In 2018 U.S. Immigration and Customs Enforcement (ICE) announced its intent to award a contract to Thomson Reuters "for subscription data services" that would allow "continuous access to commercial database aggregators and real time jail booking databases." As the Statement of Work makes clear, the system would have to obtain data from "FBI numbers; State Identification Numbers; real time jail booking data; credit history; insurance claims; phone number account information; wireless phone accounts; wire transfer data; driver's license information; vehicle registration information; property information; pay day loan information; public court records; incarceration data; employment address data; Individual Taxpayer Identification Number (ITIN) data; and employer records."
The government's use of systems that sweep up massive quantities of unverified and random information is often done through outside companies, with little public scrutiny or accountability. For example, DHS has also relied on a company called Palantir to develop systems such as Investigative Case Management (ICM) that, according to The Intercept, will enable ICE to obtain access to a vast "ecosystem" of data to use in deportation cases.
Creation of Giant Information Database
Even more ominous, EBR is part of DHS's under-the-radar creation of a vast database called Homeland Advanced Recognition Technology (HART), which will replace DHS's current biometrics database IDENT. HART will centralize access to federal and international databases, provide real-time access in the field, and involve the use of "multi-modal biometrics" (e.g., facial and iris recognition, in addition to fingerprints).
As the Electronic Frontier Foundation recently pointed out, DHS has been "quietly building" Hart, without the benefit of public scrutiny. The EBR notice confirms that the database contains much more than biometric information, including derogatory information, miscellaneous officer comment information, and encounter data, as well as relationship patterns.
Automated License Plate Readers (ALPRs)
Another component of the continuous monitoring strategy is the use of automated license plate readers (ALPRs). These readers are cameras that may be mounted on a fixed object such as a road sign or on police cars. They take pictures of passing cars indiscriminately, recording license plates and date and time of capture. In a December 2017 Privacy Impact Assessment, DHS announced its contract with an unnamed vendor for LPR data service to be used by the ICE Offices of Enforcement and Removal Operations (ERO) and Homeland Security Investigations (HSI).
A subsequent article in The Verge disclosed that the company is called Vigilant Solutions. Vigilant Solutions' LPR database will collect data from local law enforcement agencies and private companies such as repossession companies. ICE can query the database for historical information that shows a license plate's movements over the past five years. ICE can also receive an instantaneous email notice when a license plate that has been uploaded to a "hot list" appears.
DHS has outsourced oversight over the program. Vigilant is a private company, not subject to the federal Privacy Act or the Freedom of Information Act. And Vigilant has refused to provide any details about its contract. As the Privacy Impact Assessment makes clear, it's up to the commercial vendor to adhere to privacy, disclosure, and other requirements.
Conclusion
The Trump administration is implementing a sweeping system of monitoring and surveillance of immigrants and naturalized U.S. citizens. Given the potential consequences for these individuals, and the threats to privacy of all residents, it's critical that we understand and are able to challenge the deployment and use of these systems.
---
Joan Friedland is a NILC consultant and the primary author of our report "Untangling the Immigration Enforcement Web: Basic Information for Advocates about Databases and Information-Sharing Among Federal, State, and Local Agencies." She formerly was a managing attorney at NILC.