#SolidaritySelfie
Below are resources to help you and your members participate in a #SolidaritySelfie message.
The goal of the #SolidaritySelfie is to create a "virtual march" on social media to register our opposition to the executive orders. We're hoping to create enough momentum to make sure the Trump administration – and the media – take note of our opposition and are forced to contend with it.
Here's what you can do: Urge your staff, your members, and allies to tweet photos of themselves at @POTUS using the hashtag #SolidaritySelfie.
Here's how to make a #SolidaritySelfie:
1) Write a short note on a piece of paper – something like "Refugees Welcome," "Here to Stay" or "I stand with immigrants"
2) Take a picture of yourself with the paper
3) Tweet the photo of yourself, along with a note, at @POTUS. Make sure to include the hashtag #SolidaritySelfie!
Example photo: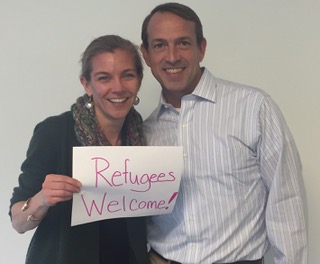 Some folks may also want to tweet at their MoCs, which is great! I just couldn't fit all those handles in some of the suggested tweets.
Here are some suggested tweets, which could be used in various executive order scenarios:
GENERAL:
Walls, division, bans don't have a place in America. @POTUS seeks to divide us all. #SolidaritySelfie
@POTUS, you shut down government social media accounts but we won't be silenced. #SolidaritySelfie
SANCTUARY CITIES:
Local communities know that #immigrants are part of us. @POTUS's executive order hurts public safety #SolidaritySelfie #HeretoStay
.@POTUS, stay out of [insert your city]'s business! Our sanctuary policy keeps all of us safe. #SolidaritySelfie #HeretoStay
MUSLIM BAN:
Trump's "nat'l security" order is code for Muslim ban: tramples religious freedom. #SolidaritySelfie
Banning Muslim immigrants and refugees plays into the hands of those who want to do us harm. #NoMuslimBan #SolidaritySelfie
Targeting Muslims goes against our core American values: freedom of religion, compassion, justice. #NoMuslimBan #SolidaritySelfie
America is better than this, @POTUS #NoMuslimBan #SolidaritySelfie
REFUGEES:
My America doesn't turn its back on refugees in need @POTUS #SolidaritySelfie #RefugeesWelcome
I believe in an America that welcomes refugees @POTUS #RefugeesWelcome #SolidaritySelfie
.@POTUS, you shut down government social media accounts but we won't be silenced. #SolidaritySelfie #RefugeesWelcome