Congress must
act to prevent
300K
DACA
recipients
from
losing
health care
THE TORCH: CONTENTS By Ben D'Avanzo

November 30, 2022

The Deferred Action for Childhood Arrivals (DACA) program has been a critical tool for immigrant youth in providing some level of stability, accessing education, and facilitating the ability to provide for themselves and their family. But there's one often overlooked result of the program: health care. Although DACA recipients are unjustly excluded from public health insurance programs and more than one in three DACA recipients go without any coverage, their work authorization means that for a sizeable number, they are able to get health insurance through their employer's plan like many other fellow Americans. If DACA ends without Congress acting to create a permanent replacement, then hundreds of thousands of people are at threat of becoming uninsured.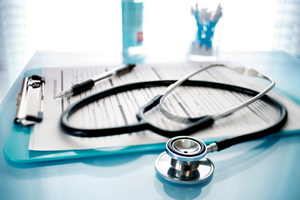 Our report, "Tracking DACA Recipients' Access to Health Care," found that 80 percent of surveyed DACA recipients with health insurance get it through their employer, meaning their access to health care is dependent on whether they are employed by others. Two courts considering a lawsuit by Texas and other states have already ruled that DACA is unlawful, and the current make-up of the Supreme Court likely means an end to the program is near. Although we do not yet know how or when this will happen, many jobs and the health insurance that comes from employment for DACA recipients is at risk.
The impact of this is not small. We estimate that at least 310,000 people could lose their route to health insurance if DACA goes away. This estimate is based on two sources of data. First, the 52.2 percent of overall DACA recipients who reported having employer sponsored insurance in the survey we conducted with the Center for American Progress, United We Dream, and Professor Tom Wong. Second is the latest Department of Homeland Security count of Active DACA recipients: 594,120. This many affected individuals would be like if half the population of Vermont had their insurance cancelled, and it would undo progress the Biden administration has made in lowering the overall uninsured rate, particularly among communities of color. In addition, any dependents relying on that insurance could also lose coverage, though some could be eligible for public insurance programs. Yet with more than a quarter of survey respondents indicating they have children we would expect an end to DACA to lead to disrupted access to health care for tens of thousands of children.
If there's one thing the years of work leading up to the passage of the Affordable Care Act made clear, it's that the harmful effects of being uninsured are well documented. This was emphasized by COVID-19, during which millions of cases and tens of thousands of excess deaths have been linked to uninsurance. Higher uninsured rates lead to uncompensated costs and a loss of economic benefits. At a time when there is momentum toward decreasing the number of uninsured, it would be foolish to push hundreds of thousands of people into a place where preventative care isn't available and emergency rooms are the go-to source of medicine.
DACA is under threat, and without action, our country will be heading towards a health care disaster. Congress should act now to pass permanent protections and a pathway to citizenship for DACA recipients and immigrant youth.
---
Ben D'Avanzo is a Senior Health Policy Analyst at NILC.